2017 Kia Soul EV near White Water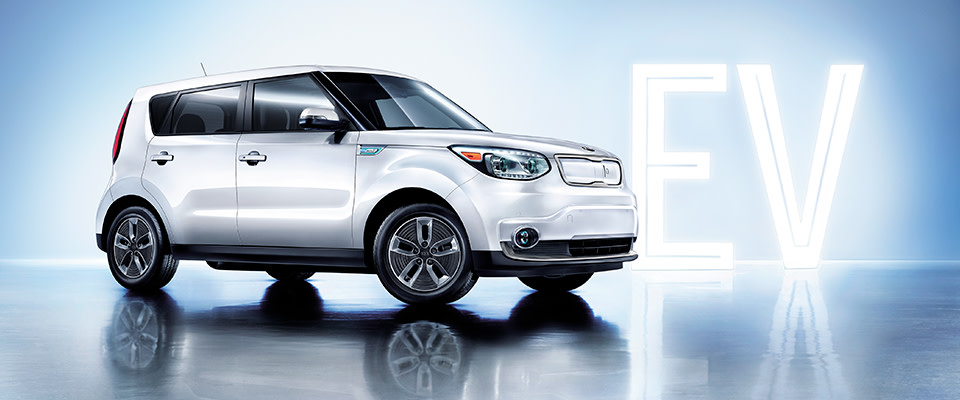 View 2017 Kia Soul EV Inventory
2017 Kia Soul EV near White Water
If you want an allelectric vehicle that's got enough range to go out of town, come to Russ Darrow Kia of Waukesha and check out the new 2017 Kia Soul EVs that are for sale near White Water. With a powerful battery and lots of charging options, the 2017 Kia Soul EV is ready to take you many miles on all-electric power.
A Battery with 93-Mile Range
The 2017 Kia Soul EV is equipped with a powerful Li-Ion battery hidden under the vehicle's floor (which maximises cargo space and lowers the vehicle's center of gravity). Despite its compact size, the battery provides enough power to drive around town and then some. Its maximum range is 93 miles on one charge.
A 93-mile range is far enough to drive the Soul Ev from White Water to Madison or Milwaukee without recharging on the way. It's also far enough to get to the northern suburbs of Chicago, from which point you can take public transit downtown and not have to worry about parking on crowded city streets or in expensive lots. Of course, 93 miles is also plenty far enough to drive a new Kia Soul EV that's available near White Water home without figuring out where to charge on the way.
Three Charging Options
When you do need to recharge the 2017 Kia Soul EV, you'll have no trouble finding a place to plug it in. The Soul EV has three charging options that offer various combinations of charging speed and availability.
The fastest option is a DC Fast Charging station, which uses 480-volt direct current to bring the battery from 0 percent up to 80 percent in about 30 minutes. With access to one of these, your car could be charged in the time it takes to eat lunch (or before you get to dessert if you're having dinner).
DC Fast Charging stations aren't everywhere yet, but there is a fast-growing network of them throughout Wisconsin and the country. Additionally, a CHAdeMO DC Fast Charge port is included with every new Soul EV for sale close to White Water. With this station installed at your home, you'll be able to drive the car to work and back, and then take it out again in the evening once dinner is over.
The next-fastest option is a 240-volt outlet, which is a widely available and fairly quick option. There are more than 35,000 240-volt charging stations located across the country, and most homes have at least a couple of 240-volt outlets. Once plugged in, the battery will reach a full charge within 4.5 hours.
While this is longer than a DC Fast Charging station, it's still a great solution for charging the Soul EV while at work or overnight. Additionally, it's possible to schedule charging using the UVO eco app for times when electric rates are at their lowest, such as during the middle of the night.
The slowest but most widely available option is a standard 120-volt outlet. It'll take several hours to fully charge the battery on 120-volt power, but this option ensures you'll virtually never be without access to power. Wherever something can be plugged in, you can recharge the Soul EV's battery.
To see 2017 Soul EVs that are for sale close to White Water, drive over to our dealership at 2141 East Moreland Blvd. in Waukesha. Our sales team is here every day except Sunday, and they'll be happy to show you the new Soul EV. They'll take you for a test drive, and they can answer any questions you have about range or charging.
Directions to Kia White Water
Contact us about the 2017 Kia Soul EV