2017 Kia Soul EV in Waukesha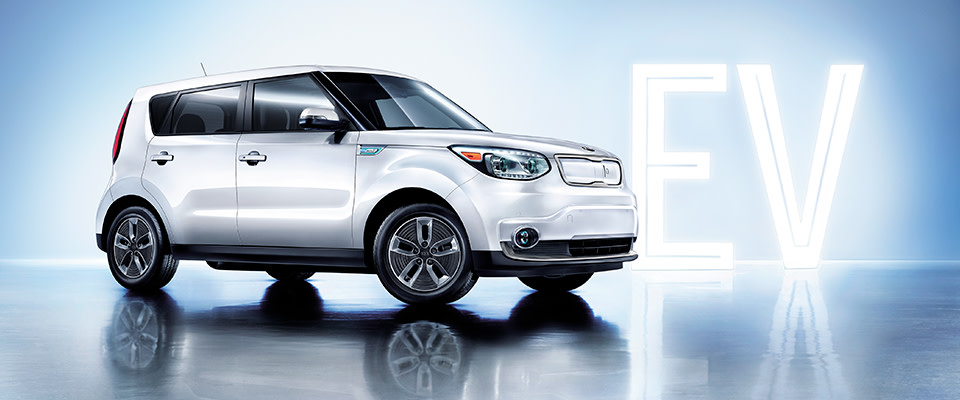 View 2017 Kia Soul EV Inventory
2017 Kia Soul EV in Waukesha
If you want a truly green new vehicle, a 2017 Kia Soul EV that's for sale in Waukesha is the car to look at. Not only is the Soul EV an electric vehicle that doesn't rely on fossil fuels, but it's also produced in an environmentally responsible way. In fact, the Soul EV leads the automotive industry with regard to environmentally responsible production in at least one way. Here's a look at why you should care about how the vehicle you drive is made -- and why the 2017 Kia Soul EV is the model to choose.
Automotive Production Puts Greenhouse Gasses in the Atmosphere
Drivers are well aware of the greenhouse gasses emitted by combustion engines, which is the primary reason get an electric vehicle. The amount of greenhouse gasses that are released during the production of an automobile are less well-known, though.
Two separate studies have looked at how many greenhouse gasses are emitted during the building of an automobile. One found that 12 percent of the total greenhouse gasses a traditional combustion-engine car would release over its lifetime came from its production. The other study placed this figure much higher, at 28 percent.
Regardless of which study is more accurate, it's clear that a lot of greenhouse gasses are produced when a car is made. If the amount of carbon dioxide and other gases emitted while driving is enough to make you consider an electric vehicle, the gasses emitted pre-purchase should justify looking at how each model is made.
The 2017 Kia Soul EV Leads in Environmental Responsibility
When you begin looking at how different models are produced, you'll soon notice that the 2017 Kia Souls for sale in Waukesha are made in a more environmentally responsible manner than other models. There are two specific ways this vehicle stands out from other cars -- including other electric vehicles -- when considering environmental impact.
First, the sound system components, heating/air conditioning vents and floor console in the Soul EV are painted with BTX-free, water-borne paints. This paint reduces how many volatile organic compounds (VOCs) are released into the air both when the paint is applied and after it's dried. Fewer VOCs are going into the environment when the Soul EV is made, and fewer are getting into the cabin's air once you're driving the vehicle. That's good new for both the environment and yourself.
Second, no less than 19 parts in the Soul EV are made from bio-sourced materials. Bio-sourced materials are plastics made from at least 10 percent bio-sourced organic carbon content, which comes from renewable resources like corn and sugarcane. In other words, at least one-tenth of the plastics in bio-sourced materials comes from plants rather than oils and other non-renewable resources (which are commonly used in the production of plastics).
Impressively, Kia's bio-sourcing efforts for the Soul EV are validated by UL Environment, a highly respected organization that looks at environmental impact. This makes the Soul EV both the first vehicle to meet UL Environment criteria -- and the only validated car to date. No other vehicle, including no other electric vehicle, can prove it's made from bio-based sources like the Soul EV is.
To learn more about the Soul EV's environmental benefits and see whether it's the right electric vehicle for you, come see us at Russ Darrow Kia of Waukesha. At 2141 East Moreland Boulevard, our dealership is right here in Waukesha. Come see us during sometime Monday through Saturday, and take a new Kia Soul EV for sale in Waukesha for a test drive.
Additional TextSource used: https://www.scientificamerican.com/article/when-used-cars-are-more-ecofriendly/
Directions to Kia Waukesha
Contact us about the 2017 Kia Soul EV