2017 Kia Soul EV near Watertown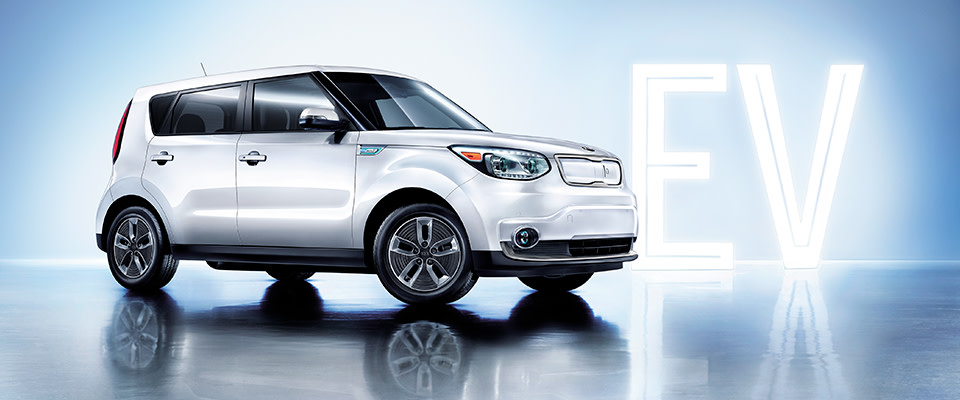 View 2017 Kia Soul EV Inventory
2017 Kia Soul EV near Watertown
With the 2017 Kia Soul EV, drivers no longer need to choose between an electric vehicle and one that provides lots of space. Unlike previous electric vehicles, which have tended to be small and have batteries in the cargo areas, the Soul EVs for sale near Watertown both offer lots of space and are designed so drivers can utilize the space they have. Here's a look at how space is maximized in the newest Soul EV.
A Body Style That Maximizes Interior Space
The Soul EV is based on the popular Soul, which is well-liked in part because of its unique design. Not quite a crossover, wagon or SUV, the Soul's body defies classification according to traditional labels. It's a sporty, distinct look that maximizes interior space without increasing the vehicle's total size.
The 2017 Kia Soul EV has 49.5 cubic feet of cargo room. That's not only more than most (if not all) other electric vehicles, but it's also more than many combustion-powered sedans, wagons and crossovers.
Features That Let Drivers Use Space
Importantly, the Soul EV's space isn't wasted or lost. The vehicle has two important features that let drivers utilize the interior space.
First, split-folding rear seats make it easy to load oversized and awkwardly shaped objects. Fold both seats down, and you'll have enough room in the back for most large screen televisions or a new recliner. When going to the lake, leave one seat down and you'll have enough room for paddle boards while still comfortably seating three.
Of course, paddle boards can also go on a roof rack, in which case you can stow your other gear behind the rear seat and bring four others with you to the beach. There's still a significant amount of room behind the rear seats when they're up.
Second, the Soul EV comes with a luggage under tray that's hidden in the floor. This is the perfect place to stow a power cord, so you can always have one with you for charging and not have to worry about it taking up storage room behind the rear seats. Such a compartment might not be a major feature on a traditional vehicle, but it's surprisingly handy on an electric one.
A Battery That Requires Little Space
Finally, the Kia Soul's battery is specifically designed to minimize the amount of space it takes up. It's a compact lithium-ion polymer battery that's capable of holding lots of power (enough to drive 93 miles) in a small unit.
The battery is also placed under the floor of the car so that it doesn't take up room in the passenger or cargo areas. Unlike many other electric vehicle models, you won't see the battery when you look in the cargo area of a 2017 Kia Soul EV that's for sale near Watertown. It's hidden away, so you can use all of the space around and behind the seats.
If you've been avoiding getting an electric vehicle because you're afraid it won't be large enough to meet your needs, let us at Russ Darrow Kia of Waukesha show you a new Soul EV. At our dealership on East Moreland Boulevard in Waukesha, you'll find several new Kia Soul EVs for sale close to Watertown. Come check them out today, and see if the 2017 Soul EV doesn't afford the cargo space that you need.
Directions to Kia Watertown
Contact us about the 2017 Kia Soul EV