2017 Kia K900 near White Water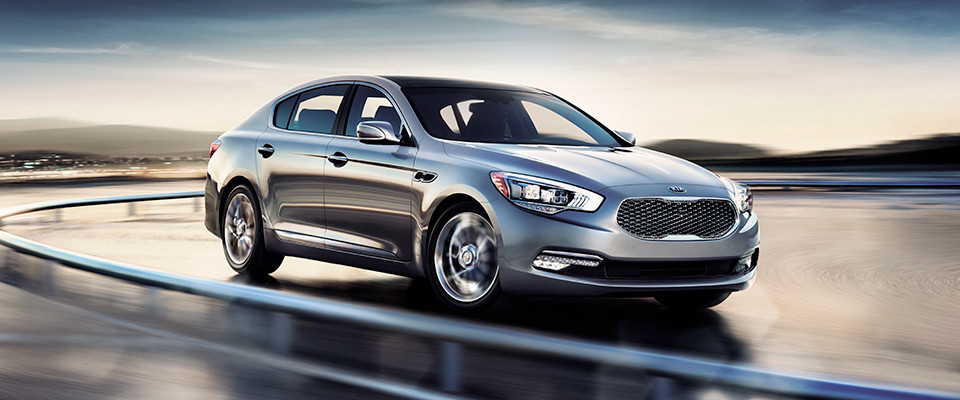 View 2017 Kia K900 Inventory
2017 Kia K900 near White Water
If you're looking for a 2017 Kia K900 for sale near White Water, you'll find many available models at Russ Darrow Kia of Waukesha. We'll help you find the right one for you, whether that's a well-equipped K900 V6 Premium or a spare-nothing K900 V8 Luxury with the available VIP Plus package. Here's a look at the different trims and packages that the 2017 K900 comes in, and that we can get for you.
V6 Premium: A Fully Equipped Base Trim
The V6 Premium is the 2017 K900's base-level trim, but there's nothing basic about this trim. It comes with a more-than-capable 3.8-liter V6 engine that delivers 311 horsepower, and the rear-wheel drive provides a classic luxury driving experience.
Most impressive of all, the V6 Premium has a long list of standard features. Just a few of them include:
a 9.2-inch infotainment and navigation display
tri-zone automatic climate control
a 14-speaker audio system with multiple inputs
front and rear cameras and parking sensors
blind spot monitoring and rear cross-traffic alert
heated and ventilated front seats
leather upholstery and panel trim
There are many, many more features that all come standard with this "base" trim.
V6 Luxury: Added Style and Convenience
The V6 Luxury trim keeps the Premium's V6 engine and all of its standard features. At its name implies, this trim brings on board several features that add another level of luxury to the already nice K900. The refinements that come with the V6 Luxury trim include:
an upgraded leather upholstery
wood accents
a wood-trimmed, heated steering wheel
transmission shift paddles
an upgraded 17-speaker audio system
V8 Luxury: Enhanced Power and Driving
The V8 Luxury trim adds a more-powerful V8 engine that delivers 420 horsepower and will take the K900 down the freeway (or up a steep on ramp) with ease. With this more powerful engine, the sedan also gets a variety of driving-oriented features:
19-inch wheels (as opposed to the standard 17-inch ones)
LED headlights (instead of xenon ones)
surround-view monitors
a smart key the size of a credit card
an upgraded gauge and instrument display
VIP Package: Upgrades All Around
The VIP package is available with the V6 Luxury trim, and it's definitely worth considering this package if you're looking at a 2017 Kia K900 V6 Luxury sedan that's for sale near White Water. This package adds a host of features for everyone in the K900, from the driver to any backseat passengers. The added features include (but aren't limited to):
adaptive cruise control
automatic emergency braking
lane departure warning
a heads-up instrument display
additional front seat and lumbar adjustments
heated and ventilated, power-reclining rear seats with lumbar adjustment
VIP Plus Package: Comfort and Luxury Everywhere
The VIP Plus package, which can be added to the V8 Luxury trim, includes everything that the VIP package on the V6 Luxury trim comes with. This package also has a number of additional refinements, such as:
soft-close doors
wood seat back trim
quilted leather upholstery
a "chauffeur" switch for the driver's seat
With so many options available, you'll want to see several Kia K900s that are for sale near White Water before you choose any specific trim or package. Come to our dealership, and the sales team will gladly show you all of the ones we have. They'll even help you custom order one if the perfect 2017 Kia K900 isn't already on our lot. Our dealership is conveniently located at 2141 East Moreland Boulevard in Waukesha, and you're welcome to stop by Monday through Saturday. Stop by, and see which trim and package most capture your attention.
Directions to Kia White Water
Contact us about the 2017 Kia K900