2017 Kia K900 in Waukesha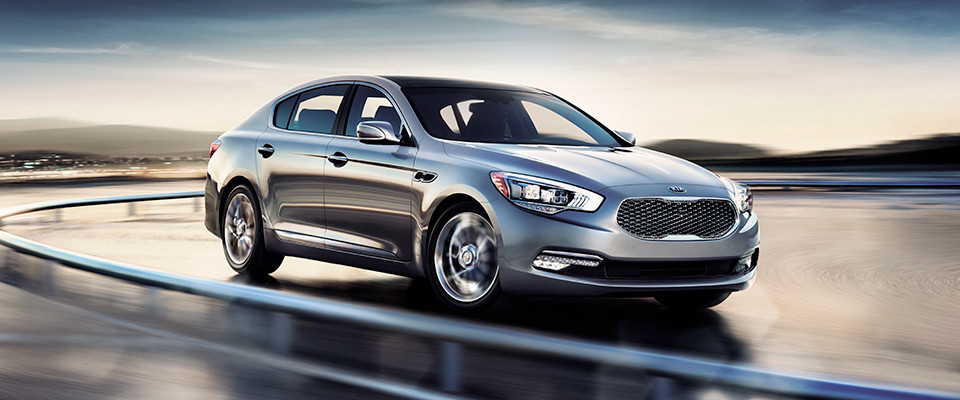 View 2017 Kia K900 Inventory
2017 Kia K900 in Waukesha
You don't have to choose between luxury and affordability when you come to Russ Darrow Kia of Waukesha to see the 2017 Kia K900s that are for sale in Waukesha. For, the Kia K900 offers tremendous value for the luxury-minded but budget-oriented driver. Here's a look at how the K900 combines luxury with affordability.
Thoroughly Luxurious Where it Matters
The 2017 Kia K900 is a thoroughly luxurious sedan, with refined features found throughout its entire build.
For starters, the engine is seated further back in the sedan than is normal, which pushes the cabin further back as well. The net effect of this is extra space between the front wheel and cabin, which creates a distinguished body style. The frame is also lined with foam, which helps to reduce road noise and ensure a quiet ride.
The engine itself, of course, provides plenty of power. The standard V6 produces 311 hp and 293 lb.-ft. of torque, which together can provide serious acceleration and speed. Should you want even more performance, a 420-hp V8 that delivers 376 lb.-ft. of torque is available. With this engine, the K900 can run with the fastest full-size sedans on the road -- reaching 60 mph in 5.7 seconds.
In the cabin, there are a whole lot of features -- too many to list in one post. Just a small sampling of them includes:
several standard and even more available driver-assist features
a 14-speaker audio system
a 9-in. touchscreen display equipped with built-in navigation
a panoramic sunroof
available heated and ventilated heated front and back seats
available power-reclining back seats with lumbar support
Even with only standard features, the new Kia K900s for sale in Waukesha more than hold their own when compared to other luxury vehicles. When equipped with available features, the K900s truly outshine the competition.
Without Extraneous Features
At the same time, the 2017 Kia K900 doesn't unnecessarily add extraneous features. For instance, drivers who get a 2017 K900 that's for sale in Waukesha don't have to pay for power they can't actually use on the road or features that are only useful on rare occasions They also don't have to overpay for a fancy brand name that adds little practical benefit.
In short, the Kia K900 provides luxury while keeping value within view. All of its features serve a very practical purpose -- making the drive and/or ride better.
Affordably Priced for a Luxury Sedan
Because the 2017 K900 doesn't contain any superfluous features, Kia is able to keep the price of the car affordable. With an MSRP starting at $49,900, this is one of the few luxury cars that's available new for less than $50,000. Some mid-level cars that have many fewer features even cost that much or more.
If you want a luxury sedan but also would like to avoid going over budget, come visit us at Russ Darrow Kia of Waukesha. Our dealership is located at 2141 E. Moreland Blvd. in Waukesha, and we have people here Monday through Saturday. Our team would love to show you the 2017 Kia K900 so you can see for yourself just how much luxury and value it provides. We can also help you explore financing options, lease options and specials that could make this car even more affordable for you.
Directions to Kia Waukesha
Contact us about the 2017 Kia K900