2017 Kia K900 near Pewaukee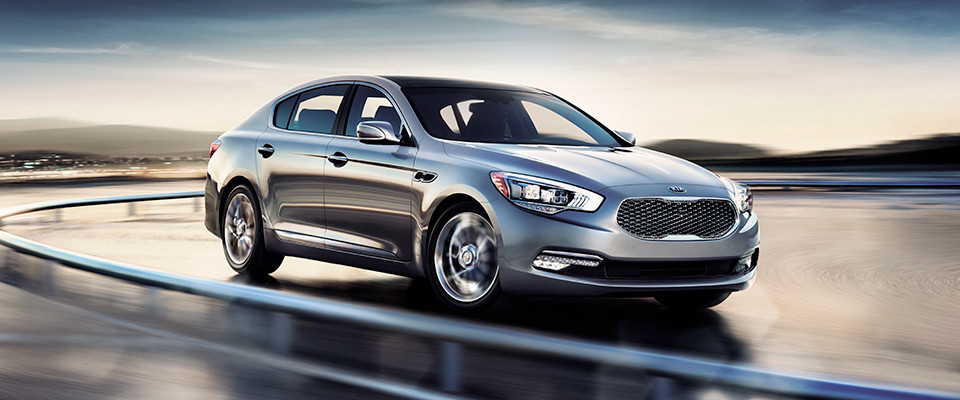 View 2017 Kia K900 Inventory
2017 Kia K900 near Pewaukee
No matter what your perspective, the new Kia K900's distinguished style will leave an impression. Whether you're looking at the exterior as it passes by, enjoying the plush interior on a long ride or utilizing the technology, you'll find the K900 offers modern luxury throughout. Here are just some of the features you might notice when you come test drive a new 2017 Kia K900 that's for sale near Pewaukee at our dealership.
A Distinguished Exterior
As soon as you see a new 2017 Kia K900 that's for sale near Pewaukee, you'll immediately notice something's different about this sedan. Like other luxury cars, the K900 has automatic headlights, LED daytime running lights and fog lights, a panoramic sunroof and available 19-inch wheels. The K900 is distinct, however, in where its cabin sits.
The Kia K900's engine is seated back further than most sedans' engines are. This, in turn, pushes the cabin back to create a look that's different from standard luxury sedans. While maintaining the traditional sedan body style, the K900 manages to adjust it in a new and modern way that distinguishes it from all the others.
A Plush Interior Cabin
When you actually get into a new 2017 Kia K900, you'll be comfortably at ease thanks to the cabin's plush interior. Being a full-size sedan, the K900 is able to offer plenty of interior space (even with its pushed-back cabin). It's also well appointed with:
hidden foam padding (which minimizes road noise)
tri-zone auto climate control
leather panel trim and upholstery
ventilated and heated front seats
eight-way adjustable power front seats
four-way adjustable driver's seat lumbar support
heated side rear seats
a power back seat sunshade
a 14-speaker audio system
Drivers who want more luxurious refinements can upgrade to the V6 Luxury package, which adds wood accents, a heated and wood-trimmed steering wheel, 3 more speakers and upgraded leather upholstery.
The VIP Plus Package, which is available on V8 K900 models, offers an even higher level of luxury. In addition to all of the refinements previously mentioned, this package and model combination also comes with power-reclining rear seats with lumbar support (among several other features). If you check out a new Kia K900 V8 VIP Plus for sale around Pewaukee, make sure you sit in the rear seats too so you can experience the highest level of backseat luxury firsthand.
Lots of Technology
All of this style and refinement is complemented by a lengthy list of technology. The new Kia K900's tech features include driver-assist features, such as rear cross-traffic alert, parking sensors, and blind-spot monitoring (all of which come standard). Along with these, the K900 has features like:
a 9.2-inch color touchscreen display
an included navigation system
a rear-seat USB port for charging
Bluetooth connectivity for compatible smartphones
a front USB port
HD and satellite radio
a media player interface
This is just a partial list. Many other features are either standard or available, depending on the trim and packages selected.
To see a new 2017 Kia K900, come visit the team at Russ Darrow Kia Waukesha. We're open Monday through Saturday, and our dealership's just a short drive from Pewaukee at 3141 E. Moreland Blvd. in Waukesha. Let us show you the new K900, and we think you'll like what you see -- no matter where you're viewing it from.
Directions to Kia Pewaukee
Contact us about the 2017 Kia K900