2017 Kia Forte in Waukesha WI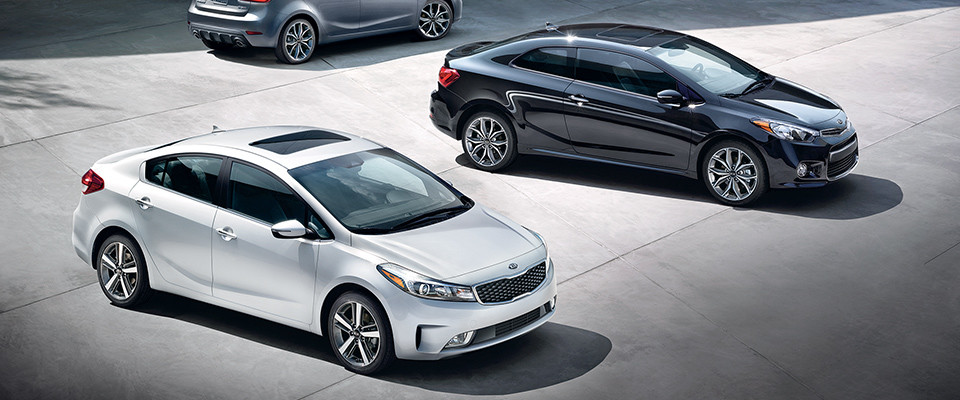 View 2017 Kia Forte Inventory
2017 Kia Forte in Waukesha
The 2017 Kia Forte near Waukesha is changing the way we think of compact economy cars by adding high end technology to a reasonably priced, and size conscious package. Rather than fully redesigning the already popular, the 2017 Forte is more of a mid-season makeover. Small stylistic changes to the front and rear give it an updated look without going too far off the beaten path.
About the 2017 Kia Forte near Waukesha
There are several big ticket items that stand out on the new Kia Forte. The restyling of the rear end and trunk give the car a slightly more modern appearance. In addition, the whole line got an upgraded 2.0 L engine, and did away with the older 1.8 L model. This has improved the overall fuel efficiency of the vehicle while also giving you a little bit more power. Kia also made sure to throw in some extra features like optional LED taillights and upgraded headlights. Many of the interior materials were upgraded to give the vehicle a more luxurious feel. That's a lot to ask of a car with an entry price of only $16,000.
2017 Kia Forte Specifications
You might be wondering how much power can really be hiding beneath the hood of a compact car like the Kia Forte. With the upgraded engine options for this year, you'll be astounded to find that you have numerous options when choosing a Forte to fit your driving profile. For instance, the car comes in both sedan and hatchback designs. Each of these has several different trim levels, including a new S trim packages for the sedan model that features tighter suspension and a sportier drive. At its most basic, 147 horsepower is available in the LX, but as you move up to the S and EX models, you will find up to 164 horsepower available and up to 32 mpg highway fuel economy.
As a family-friendly, budget-friendly vehicle, the 2017 Kia Forte near Waukesha takes the cake. The latest model has plenty of modern, upgraded features to keep you comfortable, along with several top-notch upgrades to go along with the new trim levels. Now you have more choices than ever before to build the ultimate Forte for you and your family.
If you're ready to test drive a new Kia Forte for yourself, stop by Kia Waukesha today and see what all the buzz is about!
Directions to Kia Waukesha
Contact us about the 2017 Kia Forte